The Best Cafes to Work in Tallinn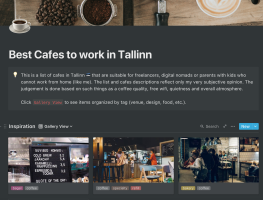 Probably, this is not a kind of a post that you can expect from a blog about Earth Observation. But since I tell stories that come from my personal experience, I told myself, "Why not sharing this experience too?"
It's been almost a year since I'm on parental leave, so I often work from a cafe during my son's daysleep. This list isn't a comprehensive resource in any matter, so feel free to suggest your favourite places.
1. Gourmet Coffee City
This place is totally about the good coffee – a good selection of beans, specialty coffee, daily coffee with a refill. Breakfasts, cakes and sandwiches, and full meals are available here.
It's a really good place for work. Free wifi (ask for a password), many two-seat places, and quiet corners. 
Patrick is the host and barista there. He's a super friendly person who will chat about coffee, beans, roast, etc.
Highly recommend! 
2. RØST
The smell! You can feel the smell from the buns being baked right in the place as you approach Rottermani district. I prefer cardamom but ones with cinnamon are good too. Consume immediately, with coffee — it's delicious!
Baristas are super-friendly and welcome a small talk.
As the place is quite squeeze inside, there's a limited number of seating places — just a couple of two-seat tables and a long bar table next to the windows.
Hint: come early to take a spot and get a bun right from the oven, as the district is quite crowded with tourists.